This site was built to support modern browsers. Please consider using Chrome, Firefox, Safari, or Microsoft Edge for the full experience.
Frequently Asked Questions
General FAQs
Honey and arabic gum are used in our tablet manufacturing process. Cellulose is often used to give body to the powders. Calcium stearate, derived from vegetable sources, is used as a lubricant to help products release from the tooling of the tablet and capsuling machines. No artificial flavoring is ever used.
Because of the variability in sources of natural and organic ingredients, color, texture, and odor may vary from batch to batch. However, the basic formula remains constant, and quality is ensured by repeat testing.
The calcium stearate we use is derived from palm oil, which is a saturated fat, like cocoa butter, dairy fats, etc. It is approved by the FDA to be used as a lubricant and is approved for use in food products.
Yes. The gelatin is derived from bovine and/or porcine sources. Cellulose is used to make vegetarian capsules.
Yes. All of our gelatin capsules are certified kosher or pareve/parve. Pareve/parve is a classification under Jewish dietary law meaning the product has been processed so extensively that it can be considered to have been prepared without meat, milk, or other derivatives.
Yes. Some patients open the capsules and mix the contents into a food or beverage source, such as applesauce, yogurt, or a nutritional shake.
Zypan, Betaine Hydrochloride, and Cal-Amo should never be chewed because the acids may cause potential damage to tooth enamel. Chlorophyll Complex softgels will temporarily stain the teeth and turn the tongue green.
Some Standard Process supplements are designed as chewables for those who cannot swallow capsules or tablets. After chewing, taste-bud receptors tell the brain what is entering the digestive system. Tasting is considered the first stage of digestion, when salivary secretion enzymes are activated.
Our products are processed in a facility that manufactures other products containing soy, milk, eggs, wheat, peanuts, tree nuts, fish, and shellfish. The preceding statement is printed on every product label to alert extremely sensitive patients. Please read our labels carefully for any possible ingredient allergens before recommending supplements to patients who are sensitive to certain foods. While we take precautions to avoid cross-contamination by thoroughly cleaning and sanitizing equipment and cleaning production suites, it is possible that some allergen residue may be present.
Nutritional yeast, S. cerevisiae, is not pathogenic and does not cause candida or other yeast infections.
For 90 years, Standard Process has been committed to making high quality whole food-based supplements that change lives. Please refer to the "Best By" date on all product boxes and bottles to determine how long a product maintains optimal quality and/or flavor. Standard Process only guarantees product potency through the "Best By" date.
Additionally, Standard Process no longer advises healthcare practitioners and patients to use product lot codes to verify when a product was produced. In early 2019, the company implemented a new Enterprise Resource Planning system that randomly generates lot codes for internal production traceability only. Due to varying degrees of potency, quality and/or flavor of product ingredients overtime, the "Best By" date continues to serve as the best reference for customers.
Below is an example of the different parts of our label and what they refer to.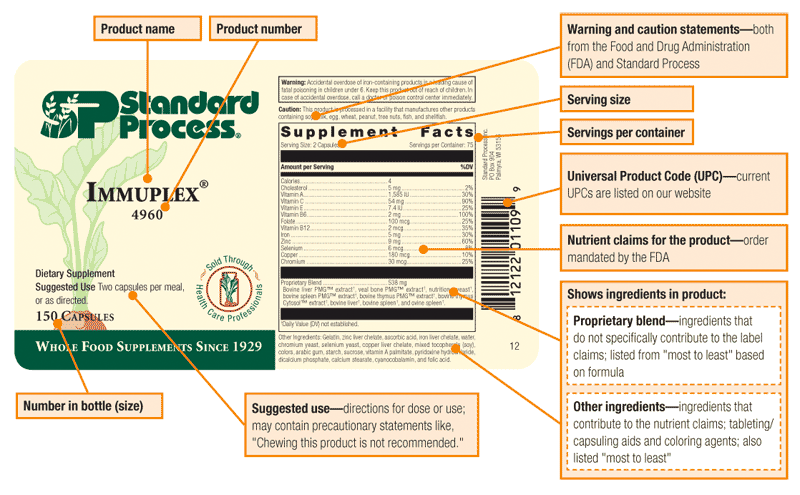 Only Peanut Butter Standard Bars continue to be made with peanut butter. Recognizing the severity of peanut allergies, Standard Process has removed peanut bran from its products and replaced it with rice bran.
The sucrose found in our products comes from natural sources such as beets and sugar cane. Sucrose, along with starch and arabic gum, is used to coat vitamin A and vitamin D (cholecalciferol), making them into a powdered form that helps prevent oxidation of these vitamins. The amount of sucrose in the actual product is very minimal.
Nutrimere and Iodomere contain green-lipped mussel. Glucosamine Synergy contains glucosamine sulfate that is derived from crab and shrimp. While not a shellfish, calamari (the source of oil in Calamari Omega-3 Liquid) is in the same family and may trigger a reaction in those who are allergic to shellfish. Please consult the product labels for the complete ingredient listing on each product.
Some products contain soybean ingredients, such as soy powder, soy nuggets, and soy protein. Soybean lecithin, a source of choline and B vitamins, is found in other Standard Process products. It acts as an emulsifier, keeping water and fats from separating in foods. Individual sensitivities to soy protein should be discussed with your patients.
The body processes most compounds based on concentration; so the more there is, the faster your body works to process it. The key is getting the right concentration at the right time. Taking smaller amounts throughout the day allows the body to maintain a lower but more consistent amount for a longer period of time. It is more efficient for your body and more effective in sustaining the molecular mechanisms supported by the compounds in our supplements.
Consistent with our commitment to produce and sell only the highest-quality dietary supplements, each batch of marine oil is tested for potential oxidation, mercury, polychlorinated biphenyls (PCBs), and dioxin. The product is also tested for bacteria and to verify our label claims. These tests are carried out by Standard Process and third-party labs. We use this process for testing Tuna Omega-3 Oil, Tuna Omega-3 Chewable, and Calamari Omega-3 Liquid.
During manufacturing, our marine oils are processed to retain their natural triglyceride structure.
We also take great care in sourcing our marine-oil products. Tuna comes from the abundant skipjack and/or yellowfin tuna populations. Our calamari oil is certified as sustainable by a nonprofit, nongovernmental organization, Friend of the Sea®.
All products do meet the standard disintegration levels set forth by the United States Pharmacopeia (USP). Water and vinegar are not good models for how the stomach digests foods.
Yes, visit here for products organized by dietary restrictions. Patients and health care professionals should know that we follow the FDA guidelines, which state that products that contain less than 20 parts per million (ppm) of gluten can be labeled as gluten-free. All of our products that are designated as gluten-free contain less than 20 ppm and are tested every time they are manufactured to be sure that they meet this standard.
Standard Process is committed to the health-giving properties of whole food nutrition and using ingredients that have not been genetically modified. As part of this commitment, we first source ingredients from our own 623-acre certified organic farm. Certified organic farming does not allow for genetic engineering. A great majority of all raw plant ingredients used to make our products are grown on our farm. When sourcing ingredients we can't grow on our farm, we are committed to selecting partners who offer ingredients that have not been genetically engineered. We rigorously evaluate all outside vendors and validate the raw ingredients they supply.
Standard Process products are thought to work synergistically and support multiple aspects of health. In some cases, combined products can result in very high levels of certain vitamins or minerals. Where warranted, guidance is provided for individual products on the label and in this catalog via warnings and cautions. Additional information about vitamin and mineral levels is provided through the "daily values" reported on the label. These values, set by the Food and Drug Administration, indicate how much of the recommended daily consumption of the nutrient is found in a serving. Several excellent resources detailing vitamin/mineral action and current knowledge regarding recommended levels are available online.
Linus Pauling Institute
Food and Nutrition Information Center
Mayo Clinic
Label requirements recently changed for how some nutrient measurements are listed. Rather than measurements listed in IU many are now listed in mcg. See chart for sample conversions:
Vitamin A/Beta-carotene
To convert from IU of vitamin A or beta-carotene to mcg RAE (Retinol Activity Equivalents), multiply by 0.3
Previous Value
Updated Equivalent
667 IU
200 mcg
1,667 IU
500 mcg
3,333 IU
1,000 mcg
6,667 IU
2,000 mcg
Vitamin D3
To convert from IU of vitamin D3 to mcg of vitamin D3, multiply by 0.025
Previous Value
Updated Equivalent
100 IU
2.5 mcg
200 IU
5 mcg
400 IU
10 mcg
800 IU
20 mcg
2,000 IU
50 mcg
4,000 IU
100 mcg
Vitamin E
To convert from IU of vitamin E to mg of d-alpha tocopherol, multiply by 0.67
Previous Value
Updated Equivalent
75 IU
50 mg
149 IU
100 mg
Folate
To convert from mcg DFE (Dietary Folate Equivalents), divide by 0.6. This conversion applies to both folic acid and 5-MTHF
Previous Value
Updated Equivalent
400 IU
667 mcg
800 IU
1,333 mg
Order Questions
You may order using the following methods:
Order online (where applicable, an account must first be established)
Call Customer Care at 800-558-8740
Mail to:
Standard Process Inc.
Attn: Customer Care Dept
P.O. Box 904
Palmyra, WI 53156
The following are guidelines regarding fees associated with ordering:
Health Care Professional Orders
Standard shipping is free for orders more than $400 SLP.

Orders of less than $400 SLP will incur a $7 fee.

An $30.00 per box C.O.D. fee will be incurred for C.O.D. orders
An $8 fee will be applied to drop-ship orders that are less than $100 patient price
Patient Orders Placed through Patient Direct
We ship to all 50 states as well as Guam, Puerto Rico and the Virgin Islands.
An $8 shipping fee is applied to orders under $100. Free shipping is available for orders totaling $100 or more.
If your customers would like their delivery sooner, we offer expedited shipping for an additional charge. Expedited options are displayed during the checkout process and the rate will be applied automatically to orders upon checkout.
Packages are shipped via UPS or FedEx.
Orders placed before 3 p.m. CT usually ship the same day. (Note: we recommend placing orders by 1 p.m. CT, particularly on the first Monday of each month and the day following a holiday due to an increase in order volume).
When you place your order, an estimated delivery date and shipping options/costs will be provided.
Due to unforeseen circumstances, such as weather, insufficient delivery information, strikes, refusal of delivery, etc., delivery date is not guaranteed.
Drop-ship packages are shipped via UPS Ground or FedEx Ground. Expedited shipping is available for an additional fee. Please contact our Customer Care Department for further details.
If there is no one to receive/sign for the package(s) on the first delivery, UPS will make two additional attempts to deliver, after which the package(s) will be returned to Standard Process. If returned, the package(s) will be subject to a 20% charge plus any additional shipping fees.
A Return Merchandise Authorization (RMA) is required for all returns and it must be visible on the outside of the shipping box or on the mailing label. To receive a RMA, call Customer Care at 800-558-8740 within 30 days of the order date and state:
Product name
Invoice number
Reason for return
"Best Used By" date
Returned, unopened product must be in the original container (carton and bottle). There is a 20% processing fee on all returned products. Any products returned without a visible ARN will be refused by Standard Process Inc.
Packages received in a damaged condition should be promptly reported to Standard Process.
Call Customer Care at 800-558-8740 as soon as you realize your order has broken or damaged bottles.
Save all damaged products, packaging material, and shipping boxes for 10 working days.
Manufacturing Questions
Honey, arabic gum, cellulose gum, and cellulose are used as binders. Calcium stearate, derived from vegetable sources, is used as a lubricant to help the products flow into the tablet machines.
No, they are derived from vegetable sources.
The three types of yeast used in some of our products are:
Nutritional yeast
High chromium yeast
High selenium yeast
Most are made of gelatin, derived from animal sourced collagen. The others are made from vegetarian cellulose. The capsule itself is manufactured to result in a strictly kosher gelatin product.
Yes; however, some products include ingredients that may be harmful to teeth so it would be best to check with your health care professional.
Yes; it is not necessary to leave the product in the capsule if you prefer to take the product in the powder form.
The shelf life on most of our products is between 1½ and 2 years. The "Best Used By" information, located on all product boxes and on the shoulder of all product bottles, represents the date by which the product is best used by and the product code. Standard Process only guarantees product potency through the "Best Used By" date. Products are continuously tested to determine their shelf life. This testing has shown that certain products tend to have shorter shelf lives, which is reflected in the "Best Used By" date.
Do products have a longer shelf life if they are unopened?
No, the shelf life is the same.
Unlike what the pharmaceutical industry and some news media would have you believe, the supplement industry is indeed regulated and inspected by various governmental agencies. Standard Process Inc. is regulated and inspected by:
The Food and Drug Administration (FDA)
The United States Department of Agriculture (USDA)
Wisconsin Department of Agriculture (WI-DA)
Occupational Safety and Health Administration (OSHA)
Midwest Organic Services Association (MOSA)
Wisconsin Department of Natural Resources (DNR)
As a precaution, Standard Process will be adding the following warning statement to all product labels: This product is processed in a facility that manufactures other products containing soy, dairy, egg, wheat, peanut, tree nuts, fish, and shellfish. Standard Process has also added a similar warning on MediHerb products that are packaged in our facility. This warning is meant for people who may have severe allergies to these foods.
Standard Process follows good manufacturing practices to avoid cross-contamination--practices such as taking apart and cleaning all equipment between production runs. It's just one way we can make our products safer for consumers.
Standard Process is committed to the health-giving properties of whole food nutrition and using ingredients that have not been genetically modified. As part of this commitment, we first source ingredients from our own 623-acre certified organic farm. Certified organic farming does not allow for genetic engineering. More than 80 percent of all raw plant ingredients used to make our products are grown on our farm. When sourcing ingredients we can't grow on our farm, we are committed to selecting partners who offer ingredients that have not been genetically engineered. We rigorously evaluate all outside vendors and validate the raw ingredients they supply.
Between each separate product run, any equipment that comes in contact with ingredients or finished product is disassembled and washed.
Cleaning agents are rotated monthly to avoid bacterial resistance.
Swab samples are taken from several areas of each piece of equipment.
These samples are exposed to a luminometer, which fluoresces in proportion to the amount of adenosine triphosphate (ATP) in the sample.
ATP is found in and around all biological matter and would indicate a possible bacterial presence.
If the luminometer measures ATP results beyond an acceptable level, the cleaning process is repeated and additional ATP tests are conducted.
This is done as many times as needed to obtain acceptable samples.
After the cleaned equipment passes the ATP testing protocol, the equipment is sanitized.
Only then is the equipment reassembled for use with a new batch of product.
If a clean piece of equipment is unused for more than 24 hours, it is resanitized prior to use.
In addition to the equipment itself, the surrounding production suite, including the floors, walls, and vent covers, is cleaned.
Patient Direct
Anyone who is a current patient of a health care professional that participates in Patient Direct by Standard Process® may apply. Just ask your health care professional for the office's unique Patient Direct code. You will need this code to start your application. If your health care professional does not currently participate in the program, please suggest it at your next visit.
This program was designed to offer patients the convenience of 24/7 ordering while still maintaining the health care professional-patient relationship. Only your health care professional knows your personal nutritional needs. As a current patient you get recommendations from an expert who will make sure you are getting the right supplements. Your health care professional will explain situations in which a supplement should not be used and help you avoid the dangers of guessing or self-diagnosis.
Download the Patient Direct brochure and take it to your health care professional. Share your interest in ordering online for direct delivery to your home.
If you don't have a health care professional, please search for a health care professional or contact our customer care department at 800-558-8740 for assistance in finding a health care professional.
Ask your health care professional for the Patient Direct Code.
Scroll down and click the "Register" button in the patient area.
Read the terms of use and enter the six-digit code provided by your health care professional. Do not share this code with anyone.
Complete the 3-step application. Upon completion an email will be sent to your health care professional for approval.
Your health care professional will take action on your application; you will receive an email that your account is approved.
Click on the link inside the email to complete your Standard Process website membership. You must create a username and password.
Log in to your Patient Direct account at standardprocess.com and begin ordering.
We are required to follow the laws in each state and collect tax from you, the patient, if applicable. Sales tax is based on delivery address and is collected on both the product and shipping charges if applicable in your state.
Yes, patients pay for shipping. There is no free shipping based on order size. All Patient Direct orders are charged a flat rate of $10 for standard shipping – no matter what size, weight, or distance. If you'd like your delivery sooner, we offer expedited shipping for an additional charge. The rate will be applied automatically to orders upon checkout—no code required.
Typically, a patient order will ship within one to three business days.
The whole process happens in the matter of seconds.
You place your order.
You receive an emailed order confirmation.
Your order is received and shipped out within one to three business days.
When your order has shipped, you receive an email with the shipping confirmation and a link to your tracking information.
Your credit card is charged for the product(s), shipping, and tax (if applicable).
Standard Process does not accept returns from patients. Contact your health care professional to inquire about returns.
This would be a violation of our resale policy, and your Patient Direct account would be deactivated. We strive to keep our products in the informed hands of health care professionals for your benefit.
Yes, we do offer auto-delivery on Patient Direct. You can also log into your Patient Direct account and view your previous orders and reorder.
You can check your email for the shipping confirmation, which includes tracking information. Or log in to your Patient Direct account at standardprocess.com and select "View Previous Orders" from the drop-down menu under "Patient Direct." Or, "View Previous Orders" can be found on your "My Account" page under "Order Management".
Call your health care professional with any questions about supplements.